Wave Analytics Support
Operate all of your dashboards, datasets, lenses and apps in the most convenient way right from The Welkin Suite IDE.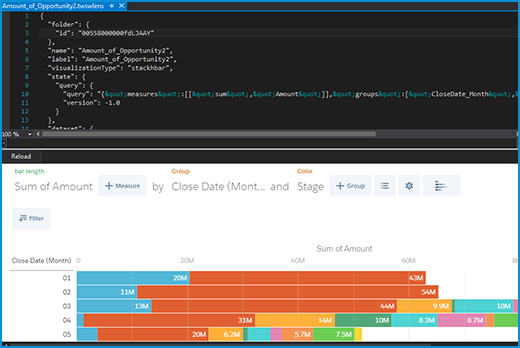 Wave Analytics is one of the most significant updates Salesforce has provided to its users - allowing them to examine and visualize the data from the external databases and log files in addition to their org. Thus, to keep up with Salesforce advancement and to provide the developers with the tools that will take them further with their tasks, The Welkin Suite has added the support of Wave Analytics to the IDE. 
In our program, we have added the special type of projects for working with Wave applications. This new 'Salesforce Analytics Project' type is available during the project creation stage. Upon creation, you can work with the following components: datasets (sets of source data), lenses (saved explorations), dashboards (curated sets of charts, metrics, and tables), and apps (folders that feature groups of the dashboards, datasets and lenses). All of the folders are clearly structured and available in the Download Wizard. You are also free to manage the lenses and dashboards within The Welkin Suite IDE, as well as pull all the latest changes from the org to keep up with the updates of your Wave Analytics App.