A promising title, isn't it? Believe me or not, but the upcoming release itself is even more promising! So let me tell you what's going on, we've heard a lot of feedback from different sources related to the way of how The Welkin Suite works with Salesforce organizations, and thank you for that. And in those feedbacks, we have heard some very helpful critics that were mostly related to the following aspects:
A lack of support for the %Put_Your_Metadata_Name_Here% metadata type
A rock-solid connection of a project tothe organization, without any option to easily switch between orgs with the same sources
Unbeatable safeguards that prevent you from overwriting something in Salesforce
A lack of a way to work with plain "src" folder in the IDE
You know what? All of this (and even more) will be resolved in the next 2 weeks, and in this post, we will highlight to you some of the details with very early screenshots.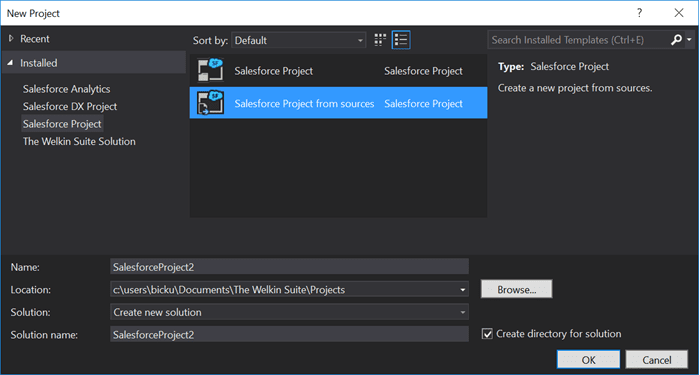 Extended support of metadata types
Yes, the moment when you will be able to include anything from your Salesforce organization into any The Welkin Suite project is very close - the IDE will support if not all, but 90%+ of the different metadata types available from Salesforce. 
The main reason why we were waiting for so long to introduce support of all metadata types available in Salesforce was performance. Both performance of the application, with 10x more items in a project, and the performance of daily operations completed by a developer or admin.  You can just imagine the situation of a very busy organization with a huge team working on it, and then you want to pull the changes from the org to your local machine. Retrieving changes in 100 files takes, unfortunately, much more time than compared to retrieving the changes in 10 files 
This is why we are not only adding support for 80+ more metadata types, but significantly changing the way of how the IDE will work with your organization(s) and how it will perform the most common actions - deploy and retreive.
Metadata in a project: working set and burden
After a lot of conversations with our users we've realized that most of the users are working with some very small set of metadata types every day, however other metadata types are also needed in the project for multiple reasons:
For a complete picture in a Git repository
For an occasional changes in different "not-so-common" places
For a proper search experience across a project
For a better understanding of a project
Based on this findings we are introducing a further separation of the metadata types that you are including into a project - working set and "burden".
Wokring set metadata will be handled as usually, and all common operations will be performed automatically, e.g. on each pull or deploy the IDE will retrieve or deploy all changes in such metadata types, so you won't need to do anything manually.
Burden set metadata will be included into the project and shown in the Solution Explorer, however, it won't be included into regular deployments or regular pulls. Of course you'll have an option to perform a special retrieve, or perform a special deploy of any changed file manually, but we believe that you'll like this way as it is saving your time - why should we be wasting time checking for changes in the, let's say, "LiveChatButton" metadatas on each pull if you're doing this just a few times a day?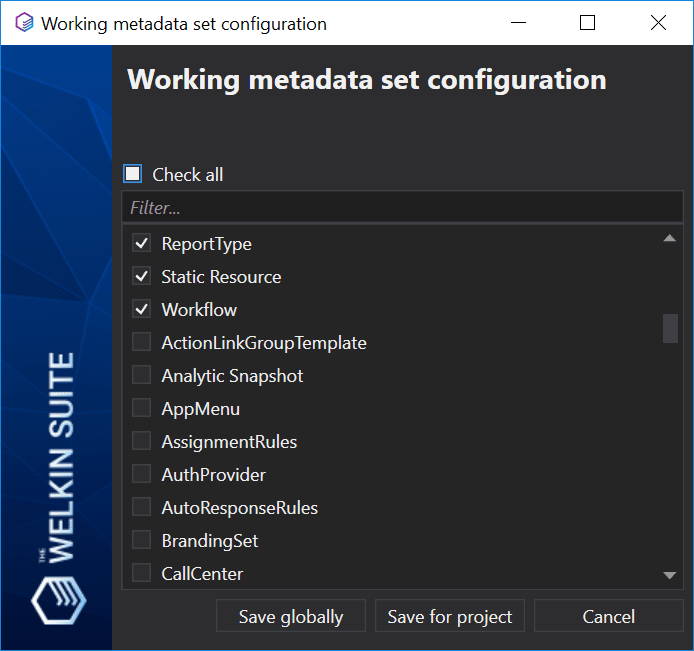 The best moment here is that this separation is absolutely under your control - you can have different metadata sets for different projects! With this separated approach you will be able to get the full organization's sources in your Git repository and in The Welkin Suite project, while focusing your, and the IDE's attention on only the important items.
Create a project from sources
The second most-requested feature, right after the "Build-on-save" (btw, it will be also added 

) - is to have an ability to create a project just by pointing the IDE to an existing folder with the sources.
You've might have noticed a new option in the 'New Project' menu on the first screenshot in this post - you'll be able to do this very easily! Just point the IDE to any directory with your sources and select one of two options of how to handle that sources:
"Wrap" those sources in a The Welkin Suite project - the IDE will created the needed files and folders in the same folder where the 'src' folder is located, thus you can have your clean 'src' folder in the Git repository, for example
Copy that sources to a new location where a project will be created
After this is done - you'll have a project that is not tied to any organization (read below about this).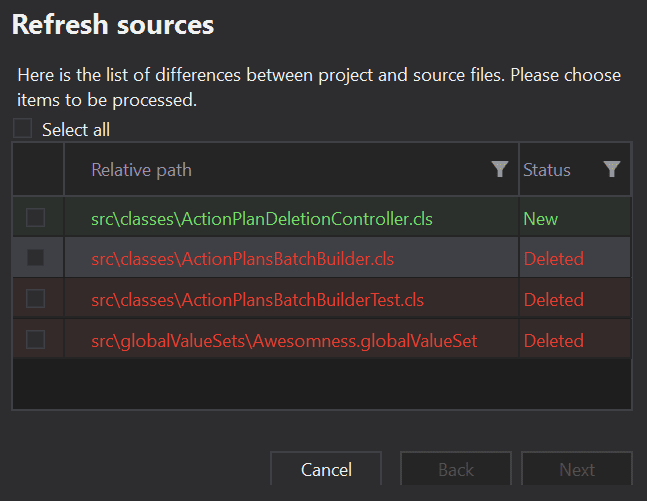 If you'll add or remove any files outside of the IDE (for example - if you'll switch branches in Git, or copy-paste a couple of boiler-plate classes into the sources folder) you'll be able to notify The Welkin Suite about these changes in just 2 clicks.
Connect your projects with any Salesforce organization
The last part of this big puzzle is having an ability to connect your sources to any organization at any moment... Again, in just couple clicks.
Once you have your sources in the IDE you will be able to connect them to any organization, so the IDE will get all the data that it needs to provide you with all our great features. Even if your project was connected to some organization - you will be able to easily switch it to another one, and IDE will recognize the difference between the orgs and it will provide you a nice way to deploy missing/remove unneeded items from a project, if you want.
With this updates to the way how The Welkin Suite handles projects and sources, we aim to provide you the best development experience, no matter what development flow you are using, and, somehow, give you more of a SalesforceDX-like freedom even, if you are not using it.
Small and still awesome changes
We won't dive deep into details about th changes here, but here's a small subset of new cool updates that you will for sure like:
A configurable deployment behavior - "Deploy-On-Save" or "Deploy changed items at once"
A significantly improved and enhanced Deployment process
Yes, we'll get rid of the "Build" word and will call everything as "Deploy" 
Force deploy and Force pull options in various different ways from virtually any place in the IDE
A straightforward regular Pull process
A couple more options to Pull changes from organization
A smarter and more flexible "Pending Changes" panel
Stay in touch
We hope that you're as excited about this upcoming release as we are! We will post some more small articles highlighting the new features in the next 2 weeks, so stay in touch to know about all the awesome features that we've prepared for you!
Ah, almost forgot - the new version of The Welkin Suite with all these features will be released by July 6th!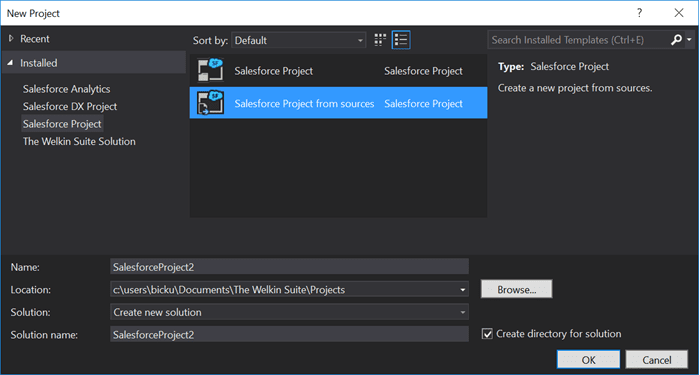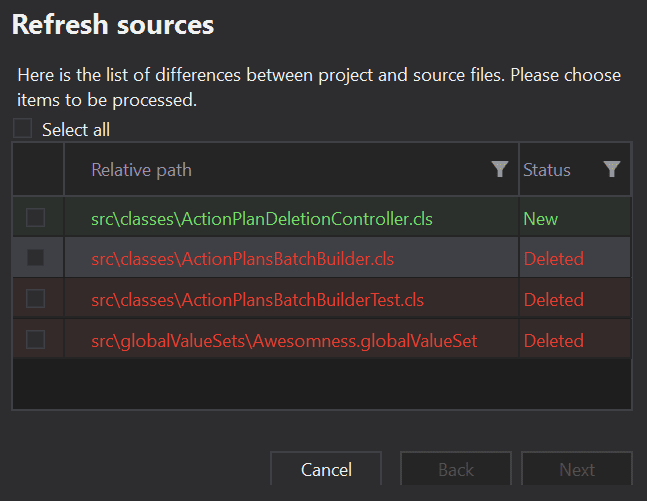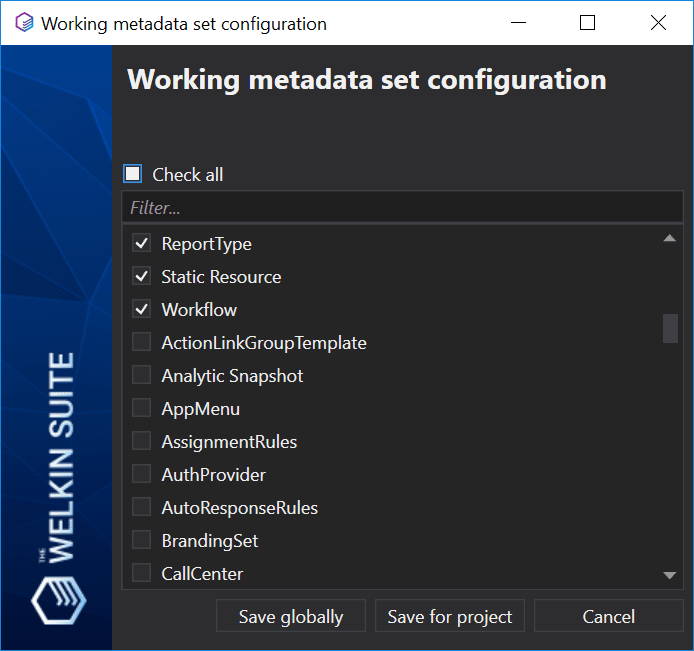 The Welkin Suite
Developer friendly Salesforce IDE