Are you overlooking a great opportunity in starting in a development field where demand is outpacing the supply? There is money and a name to be made, so strike while the iron is hot.
For those with the foresight to be looking at a move to Salesforce development, you can probably say at least two good things about them:
They are a passionate person who is looking for some positive changes and growth to soon come their way
They have a healthy grasp on their future professional career, as they see what is on track right now for cloud platform development. And what they see is that this development sphere is at a great blossoming stage nowadays, which suggests a sack full of good opportunities in the near future.
So what are the opportunities that Salesforce hands to those who are ready to jump on board?
I think, the developers in the know can find more than a few reasons for joining the Salesforce world, but I'll try to just stick to the main tempting arguments in its favor.
First, it's the amount of income that is at hand for developers in America, Europe, and Australia. You know, when I first saw the numbers I thought "Man-oh-man, why am not I a Salesforce developer?". OK the proof is in the numbers, so let's look at the salaries of some Salesforce specialists in different countries. Oh, by the way, we were able to have this capturing information thanks to Mason Frank International, a Salesforce Recruitment Agency, which did a great job holding a worldwide survey, thanks guys! If you would like, you can download the survey results here.
So, here is the list of Salesforce specialists that are in demand, along with their average salaries and hourly rates in different countries.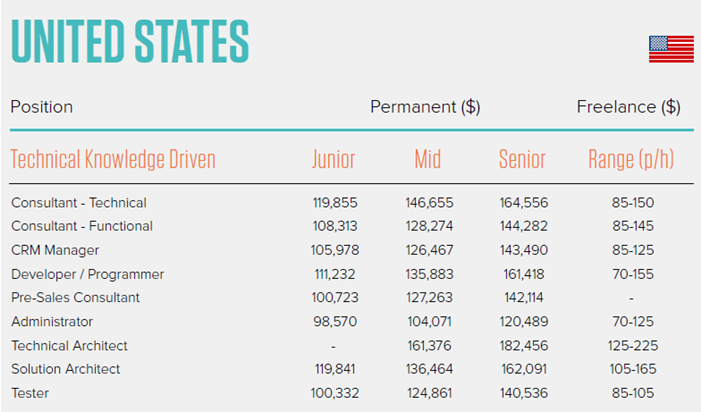 Salaries in the USA
If you are living in the United Kingdom or collaborating remotely with a local company, you might want to look at the average salaries in the picture below, and see what you could be offered according to the survey.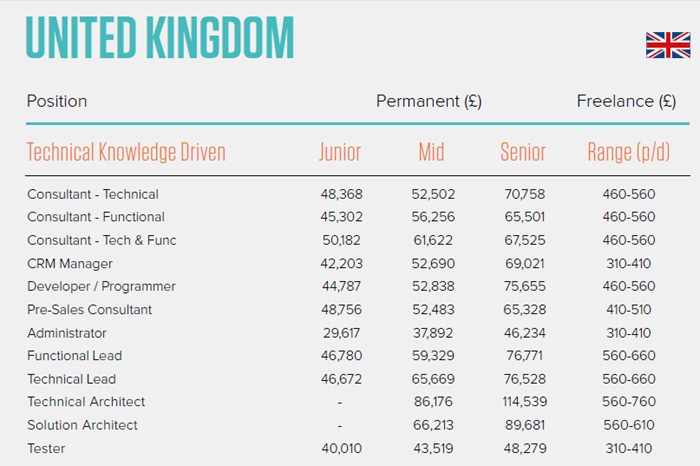 Salaries in the UK
So now it's time to look at the amount of salaries in Germany, you might want to compare this to your salary that you could have in your possible roles in other development fields, to see how promising Salesforce development could be.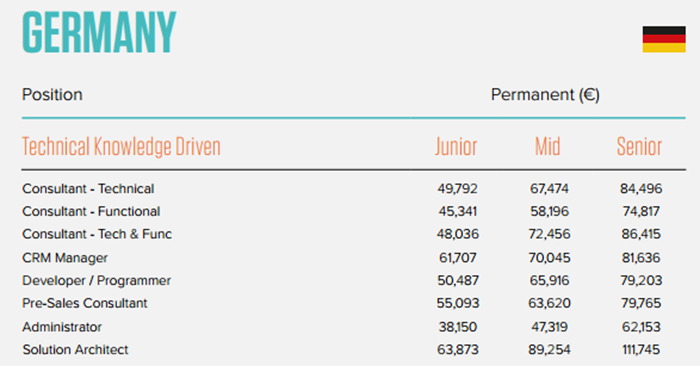 Salaries in Germany
If you are dreaming of a nice life in sunny Australia, Salesforce is a great occupation to get you there, and to be honest, it's not a bad idea to pack your bags and get going, because the salaries you should be offered, according to the survey, are almost as high as in the US.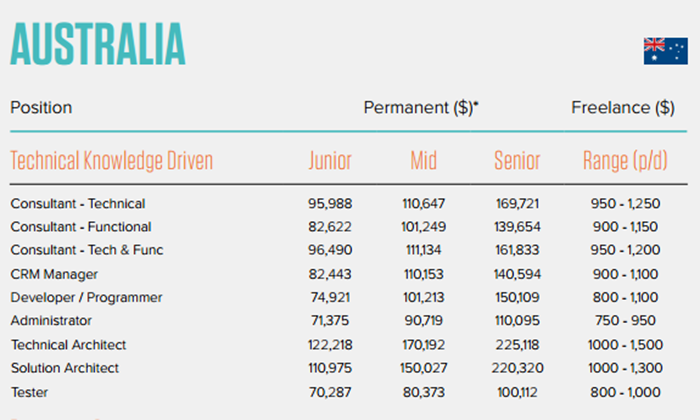 Salaries in Australia
It's impressive, isn't it? But I must say in fact, one of the highest appealing benefits of working in the Salesforce development sphere, is the opportunities for professional growth, especially if you are Salesforce certified.
There are a lot of job opportunities for Salesforce developers, Admins, Marketing Automation Experts, Business Intelligence Analysts, Project Managers, Architects, Consultants, etc., and the availability of jobs in the market and the demand for developers to fill these vacancies are increasing. A huge range of companies from small startups to dinosaur corporations are moving to cloud platforms because they help deliver a highly customizable service to clients with less development efforts - 80% clicks and 20% code to build an app.
This is all great news because you do not only have to be a developer to take advantage of this opportunity, but you can also get engaged with the CRM business functionalities, or you can perform administration tasks to support developers. There are a lot of available positions for Administrators, Consultants, CRM Managers, Technical or Solution Architects, and QAs; all with great salaries and career outlooks.
Ok I know, Salesforce is a comparatively young technology when you compare it to others technologies like the .NET stack, and there are some concerns out there about the development tools that are at hand to support it. But there is no need to worry, there are already some good development tools that are ready out of the box. Like, if you felt comfortable with the Visual Studio as a development environment, you definitely will go for a tool like The Welkin Suite, which has a similar interface, and a lot of integrated tools for coding in Salesforce.
Another interesting tantalizing tidbit is that Salesforce gives a lot of great opportunities to integrate itself with different technologies, but this does offer up a challenge - to keep up with all its updates. The good thing about this is that it forces the development tools to keep up, or risk just being yesterday's news.  Let's look at The Welkin Suite here again as an example, which is releasing on average of every 14 days to keep up, so its users can rest assured that the tool is updated automatically so they don't have to worry about this.
So, going back to the positions and salaries... If you are interested in making your way for the future in the Salesforce world, let's see what duties lie within the different job titles.
Technical Consultant: duties lie within the analysis, design, development, implementation, integration, and documentation of projects as a whole, in order to meet project expectations. A Technical Consultant is usually the bridge between the developers and the management.
Functional Consultant: role is communication with clients, and assisting them through different stages of projects all the way up to implementation, which requires lots of project oversight. Some of a Functional Consultant's duties may be gathering business requirements, coordinating the implementation of some new functionality- in general, the main task of this type of consultant is to make the client happy. This position requires a good mix of technical, business, and interpersonal skills.
CRM Manager: responsible for planning and delivering the CRM strategy across a company, decide on the CRM platform's structure and architecture so it can work effectively within an organization. Some other duties may be creating a better understanding of potential customers and their buying behaviour, and then passing this info over to the Marketing and Sales teams to step in. Segmenting a database correctly is yet another possible task, as well as building the most effective approach for a company's products, and making sure that the CRM can drive the business forward.
Developer/Programmer: responsible for developing cloud based applications, and being able to deal with all the associated technical aspects of this. For instance, like building in business minded functionality with Apex or Visualforce, using Java and other programming languages, performing integration, adhering to a client's requirements and specifications, designing new solutions and execution techniques, performing deployment and bug fixing, and dealing with documentation.
Administrator: a jack-of-all trades that combines the responsibilities of a Business Analyst, Business System Analyst, and CRM System Analyst. Administrators are usually tasked with implementations, maintaining and growing the platform, and optimizing the business processes. Admins require solid analytical skills as they may have to interface with various user groups, understand their needs, and manage the system according to these needs of the groups. Also, they may have to develop reports, dashboards, and recommend the best practices to business users and stakeholders.
Technical Architect: should be able to deal with requirements, design the key technical components of a solution, help technical specialists deliver a project while reducing its technical risk. A Technical Architect is responsible for delivering new functionality, and may be leading a technical team by being able to breaking down a project's work into more manageable tasks, which means having good organizational skills, and having good communication skills for explaining to designers and developers what's required. Basicly they are in charge, with overseeing the overall technical progress, and meeting with clients.  
Solution Architect: undertakes both technical and customer-facing responsibilities. A Solution Architect provides technical strategy, and implements the best practices for a solution's design that adheres to the business's requirements, while being a client's advisor up through the delivery point. This position inclines an understanding of business objectives and how they could be supported by an application.  
Tester, aka QA (Quality Assurance Engineer): has to test a product and make sure that it works as it is supposed to before it goes into production. A tester deals with defects and issues, creates testing-related documentation such as test plans, test cases, and bug reports. A QA mainly performs functional, system, integration, and regression testing, and may offer implementation suggestions. Highly skilled ones may even review a developer's code to highlight potential issues. This position requires a solid knowledge of the software development lifecycle and the roles of testing in it. It also requires strong analytical and problem solving skills. A QA tightly communicates with developers, managers, and other testers in an Agile environment in order to contribute to delivering the high quality product.
So now you are aware of some of the highly-paid positions that are related to cloud app development on the Salesforce platform, so why not to choose one of them and start on your road to an interesting profession either onsite or remotely?
If you are a .Net developer needing some guidance in this process of moving to Salesforce, I will be happy to help you with some handy materials that have some good examples about the differences between C# and Apex, and information about some best approaches, mindsets and good tools!
You can get these materials here.
I would suggest that even if you're not planning to change your profession, just get a bit more familiar with Salesforce, and keep on with your current work/programming language. The way I look at it, there is no harm in getting your feet wet in Salesforce, as it is with any new knowledge, it is a win-win for you!
All indicators point that the Salesforce platform will keep blossoming for the upcoming decades with all the promising opportunities it's giving!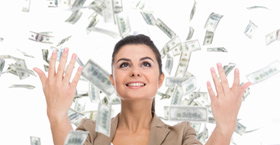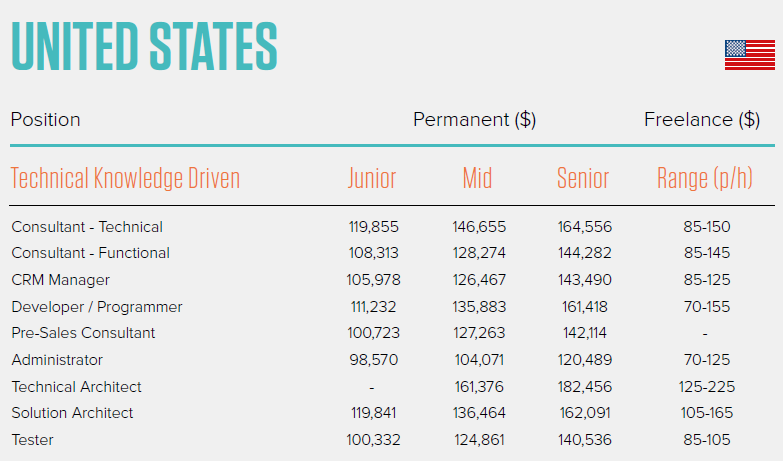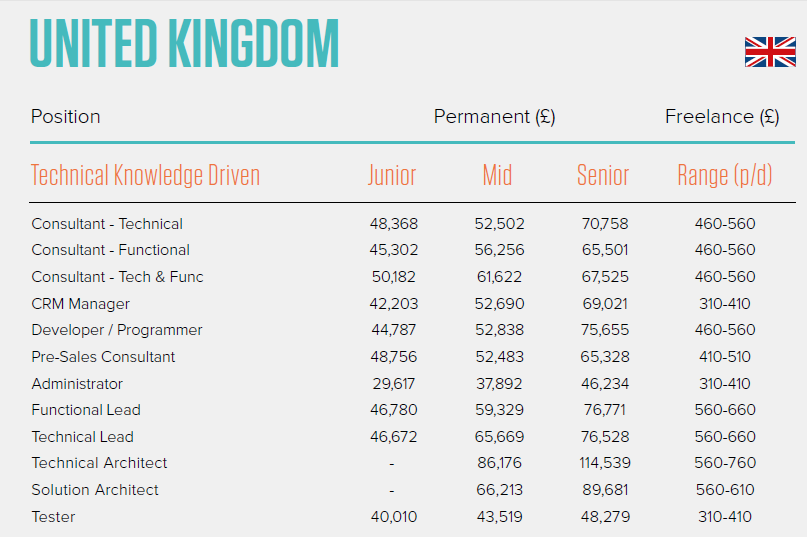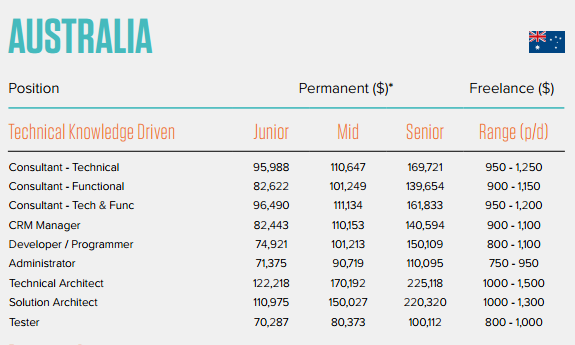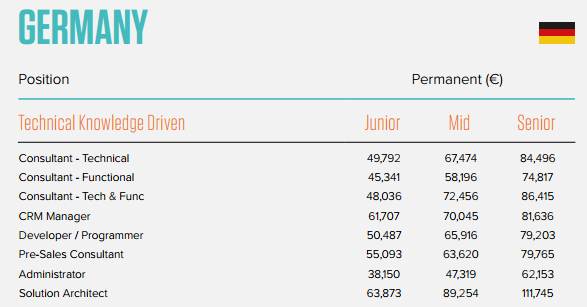 The Welkin Suite
Developer friendly Salesforce IDE